International Women's Day 2022 at Team Bedspace!
08 03 22
We are delighted to celebrate #IWD2022 here at Bedspace. Over 58% of our team are women, many of them in Department Head and Leadership roles and we are especially proud to celebrate their success! We have a team of strong, proud and passionate women and the photos below celebrate everything about them and what they contribute to the lives of some of the most vulnerable young people!

"When one of us rises, we all do."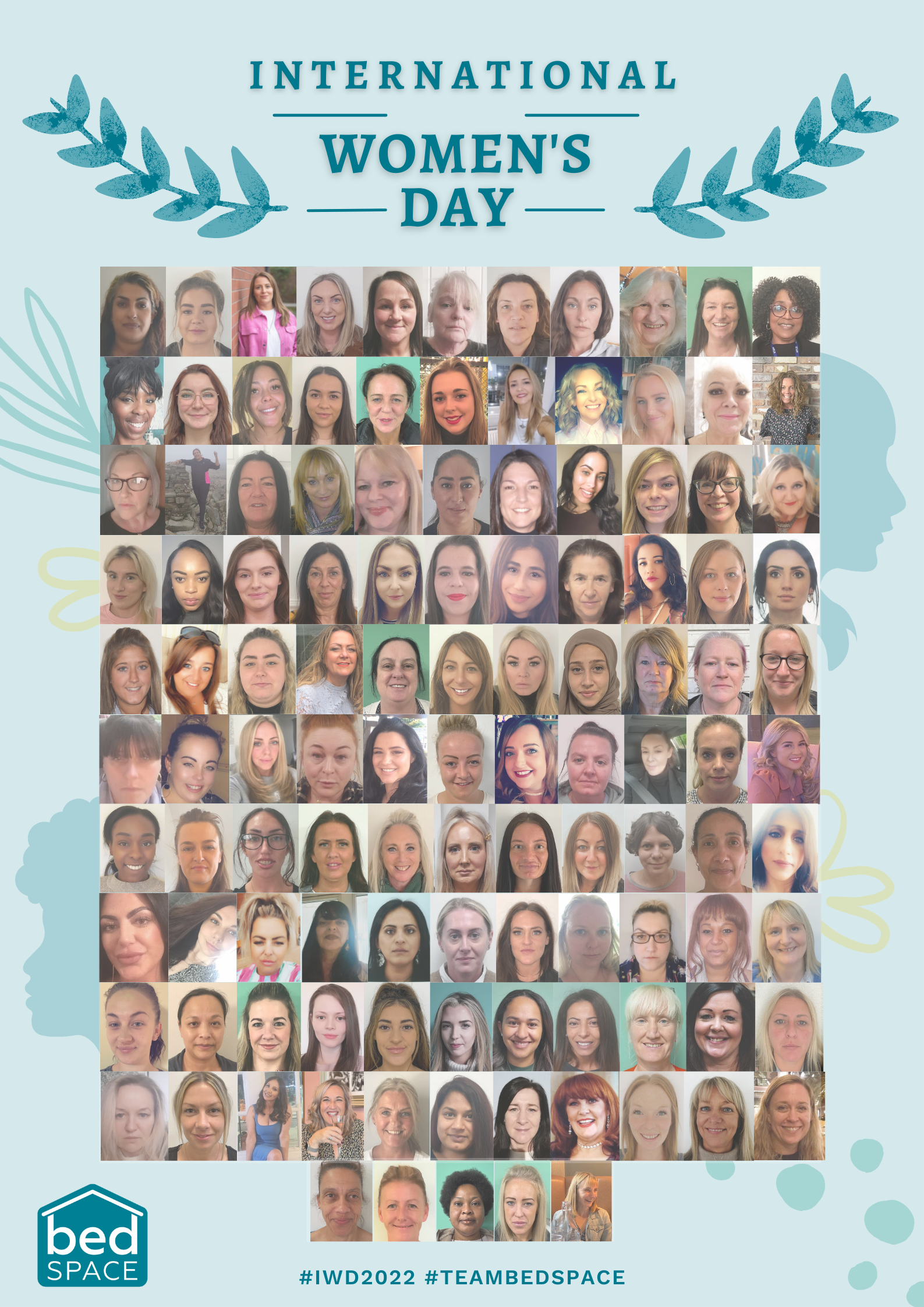 Afsha Hussain, Aggie Gdaniec, Aisha Bi, Aisling White, Alasana Dumbuya, Alishima Morrison, Ameneh Fazeli, Amy Nelson, Amy White, Andrea Huyton, Angela Bailey, Angela Wilson, Ayodele Adesanya, Bianka Burgess, Bolarinwa Fadeni, Bridget Newham, Carolann Mahoney, Celia Cole, Chantel Coleman, Charlotte Schwenger, Charna Martins-Brown, Chloe Smith, Christina Mcmullan, Christine Olabode, Ciara Green, Claire Morgan, Daiana Sertage, Danielle Hewitt, Danielle Kewin, Dawn Manktelow, Debbie Barrell, Debbie Harrison, Deborah Allanah Ngozi, Deborah Evans, Debra Rattigan, Diane Potter, Donna Best, Donna Omar, Edith Mogu, Elizabeth Kerboas, Ella Imoh, Ellie Hughes, Emily Gloster, Emma Booth, Emma Watkins, Frances Hanna, Gemma Gordon, Georgia Gorton, Georgina Backhouse, Hannah Woods, Hayley Dickinson, Henna Ali, Holly Irving, Holly Palmer, Iqra Yaqub, Irene Noden, Jacqueline Benoni, Jade Austin, Janet Amoh, Jenna Lead, Jennifer Greenwood, Jennifer Kay, Jessica McGregor, Joanna Brown, Joanna Graham, Joanne Curtis, Jodie Murray, Jody Duffy, Jossy Chibiwyke, Justina Ilesanmi, Kamilah Lynch, Karen Palmer, Kate Chadwick, Kate Kirkland, Katherine Maleham, Katie Fullard, Katie Woods, Kayleigh Leather, Kelly Parr, Kelly Wilde, Kelsey Campbell, Kerry Bailey, Kirsty Ballantyne, Laura Benn Richardson, Laura Dongmo, Laura Moore, Lauren Rogan, Leigh-Ann Cooke, Leonie Gallagher, Leonie Simms, Lesley Tidder, Lia Oneill, Lindsey Mawdsley, Lisa Bartlett, Lisa Rimmer, Lisa Thompson, Lisa Wilson, Lois McConnell, Lorraine Reading, Louise Bailey, Lydia Nyakaura, Mabolaji Muadat, Madli Narayan, Maria Wilkinson, Mary Swatson, Maryam Rafiq, Megan Fergus, Megan Gardner, Michelle Jozwiak, Michelle Richardson, Nadia Mekki, Naget Elgadhy, Natalie Plimley, Nicola Heslin, Nicola Patterson, Nicola Speakman, Nkirhu Nezianya, Patricia Lawrence, Paula Carney, Pauline O'Connar, Philippa Rockcliffe, Rachel White, Rajmaya Maharjan, Rebecca Goulding, Rebecca Skelton, Rejoyce Mkuhlani, Risikat Adetona, Roisin Lynch, Rose Chigumira, Rosie Carroll, Safiyah Kamarudin, Sammia Jaffar, Sandra Parry, Sarah Black, Sarah Pryor, Sarah Rhodes, Sarah Turner, Shan Harding, Shauna Boldy, Shelby Easson, Sue Kaveney, Sue Sheridan, Sumiyyah Laher, Susan Geddes, Susan Miller, Susan Moore, Susan Paulucci, Susie Marriott, Thendai Mzumara, Tina Idowu, Tracy Hughes, Uwaila Asemota, Vicki Frankland, Victoria Moran, Victoria Patricks, Wendy Richardson.